DG Roofing and Guttering
DG Roofing is a Glasgow based roofing and guttering company. We have over 20 years' experience in dealing with the wide range of properties found in Glasgow. Our knowledge of the area allows us to correctly assess your property's needs and provide the best and most effective service. We believe in prolonging the life of your home and are happy to provide advice for maintaining your property.
Our Roofing Services include:
Inc. flat roof, tiled roof, slate, pointing and chimney stacks.
Stripping and re-slating, roughcasting, lead work and painting
Our Guttering Services include:
Maintenance for Specialised Buildings
Prompt Service Polite Staff Good Pricing
We pride ourselves on the following:
Quality workmanship.

Best practice repairs.

Free estimates.
All of the member of the DG Roofing team are qualified tradesmen. We carry ID and registration cards which can be shown on request.
We have hundreds of happy customers throughout Glasgow and the surrounding areas. We take great pride in our work and always look after our customers whether they have been a client for many years or this is the first time we have worked for them.
Read our testimonials and find out for yourself what our customers have to say about our quality roofing and guttering workmanship.
20% Discount off Standard Pricing for OAPs
We offer a discount to OAPs. Please contact us for details.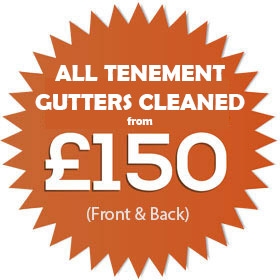 Contact Us:
Email: info@dgroofingandguttering.co.uk
Tel: 0141 345 2042